To | Thu 8.6.2023 @ 19:00
Assi Karttunen & Rody van Gemert (FIN) • Sfäärien harmoniaa - konsertti kitaralla ja cembalolla
Genre: Classical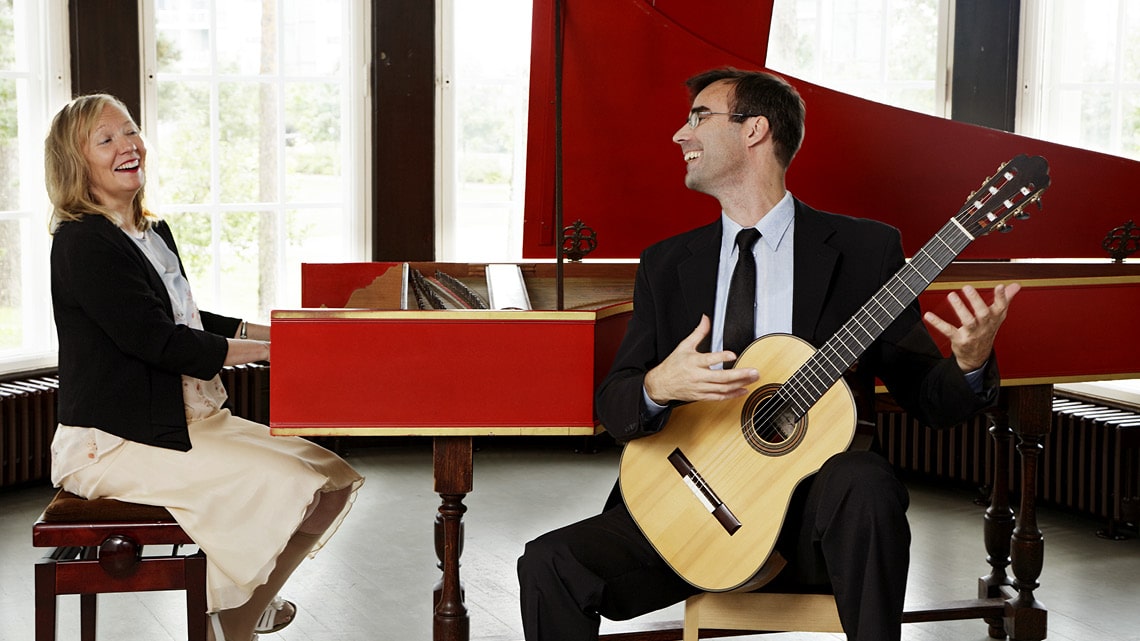 Assi Karttunen - cembalo | harpsichord
Rody van Gemert - klassinen kitara | classical guitar
Tampereen konservatorio | Tampere Conservatoire, Pyynikkisali
F.E. Sillanpäänkatu 9, Tampere
Kesto noin | Duration about 1h 45 min • Väliaika | Interval 20 min • Numeroimattomat paikat | Unnumbered seats • Konsertista tehdään videotallenne | The concert will be recorded on video
Katso maksuton striimaus | Watch the free concert stream: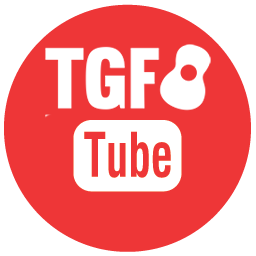 Ohjelma / Program
GREECE
Graham Lynch (1957-): Daphne Prelude for guitar
Matthew Whittall (1975-): The Wine-dark sea IV for harpsichord and guitar
Graham Lynch: La Forêt de Mélisande for harpsichord (première)
Harry Partch (1901-1974): Two Studies on Ancient Greek Scales (arr. for guitar and harpsichord, Rody van Gemert)

Olympos' Pentatonic
Archytas' Enharmonic
Graham Lynch: Sing, Memory for harpsichord and guitar
Väliaika | Interval 20 min
FRANCE
Juha T. Koskinen (1972-): Cinq fontaines de la Fortune for guitar and harpsichord
Frederic Chopin (1810-1849) arr. for guitar, Francisco Tárrega

Prelude Op. 28 No. 6
Prelude Op. 28 No. 15
Nocturne Op. 9 No. 2
Jean-Baptiste Antoine Forqueray (1699-1782): La Leclair for harpsichord
Tôn-Thất Tiết (1933-): Horizon Nordique for harpsichord and guitar
Maurice Ravel (1875-1937): Chanson des cueilleuses de lentisques, de 5 Mélodies populaires grecques (arr. for guitar and harpsichord, Graham lynch)
Artistiesittely
Suomen kärkimuusikoihin lukeutuvat cembalisti Assi Karttunen ja kitaristi Rody van Gemert konsertoivat Tampere Guitar Festivalilla ensimmäistä kertaa. Kummatkin muusikot ovat kiinnostuneet erilaisista viritysjärjestelmistä ja äänen fysiikkaan liittyvistä ilmiöistä.
Konsertin ohjelma perustuu muun muassa Välimeren alueen historian ja mytologian aiheisiin. Konsertissa kuullaan muun muassa Tárregan Chopin-sovituksia vietnamilais-ranskalaisen Tôn-Thất Tiếtin, englantilaisen Graham Lynchin ja suomalaissäveltäjä Juha T. Koskisen musiikkia.
"Konsertti on yksi ensimmäisistä, jossa käytän Antonio de Torresin La Perla -kitaraa vuodelta 1882. La Perla, suomeksi helmi, on ainoa Torres-kitara, jonka nimi lukee erillisellä setelillä kitaran sisällä. Kitararakentaja Uwe Florath on huolellisesti restauroinut tämän kitaran soittokuntoon. Kansallisarkiston paperikonservaattori Liisa Kantanen totesi, että seteli on samalta ajalta kuin Torresin oma pohjaseteli. Yle on juuri julkaissut äänisuunnittelija Hanna-Helena Kinnusen tunnin pituisen radiodokumentin La Perlasta ja sen historiasta." -Rody van Gemert
Kuuntele dokumentti La Perlasta Yle Areenassa
Assi Karttunen
Cembalisti Assi Karttunen on erikoistunut esittämään ja tutkimaan barokkimusiikkia. Hän esiintyy solistina ja kamarimuusikkona myös monitaiteellisissa ja kokeellisissa työryhmissä kantaesittäen uutta musiikkia.
Karttunen on levyttänyt 4 soolo-CD:n verran mm. Couperinin, Rameaun, Frobergerin, Lynchin ja Frescobaldin soolocembalo-ohjelmistoa ja esiintynyt solistina ja kamarimuusikkona Italiassa, Belgiassa, Saksassa, Englannissa, Skotlannissa, Irlannissa, Japanissa, Venäjällä, Virossa, Norjassa, Tanskassa ja Ruotsissa. Hän soitti (1998–2010) Suomalaisessa Barokkiorkesterissa ja vuosina (2006–2016) työryhmässä Elysionin Kedot ja soittaa parhaillaan nykymusiikkia esittävässä triossa Superpluck.
Karttunen työskentelee instrumenttipedagogian ja vanhan musiikin lehtorina Sibelius-Akatemian DocMus-tohtorikoulussa ja vanhan musiikin aineryhmässä, jossa hän on opettanut mm. cembalonsoittoa ja basso continuoa yli 20 vuotta. Hän on julkaissut tutkimustaan julkaisuissa, kuten Musiikki, Trio Research Publication sekä Ruukku Studies in Artistic Research.
Rody van Gemert
Rody van Gemert on monipuolinen muusikko Hollannista, joka muutti Helsinkiin vuonna 2000. Hän on kiinnostunut niin uudesta kuin vanhasta musiikista, aina antiikin Kreikasta lähtien. Van Gemert on myös ahkera kamarimuusikko, joka tekee yhteistyötä muusikoiden ja tanssijoiden kanssa.
"His playing is characterized by clarity of articulation, elegance of form, and purity of technique." -Cambio de Michoacán, Mexico
Van Gemertin musiikkiura alkoi koululaisena Haarlemin katedraalikoulussa, jossa kuorolaulu ja viulun soittaminen olivat päivittäinen osa hänen koulunkäyntiään. Varhaisteininä hän innostui sähkökitarasta ja bänditoiminnasta, jolloin viulu ja laulu jäivät. Hän kiinnostui barokkimusiikista kuultuaan Bachin luuttusarjoja, ja sähkökitara vaihtui saman tien klassiseen kitaraan. Van Gemert valmistui Amsterdamin Sweelinck-konservatoriosta sekä Kölnin musiikkikorkeakoulusta musiikin maisteriksi. Lisäksi hän opiskeli Japanissa Hiroshiman Elisabeth-musiikkikorkeakoulussa sekä Sibelius-Akatemian DocMus-tohtorikoulutuksessa opettajinaan muun muassa Norio Sato, Jukka Savijoki ja Zoran Dukic.
Kitarataiteilija van Gemert on kantaesittänyt noin 120 sävellystä, niin sooloteoksia kuin kamarimusiikkia, säveltäjinä muun muassa Lotta Wennäkoski, Matthew Whittall, Robin de Raaff, Tôn-Thất Tiết ja Graham Lynch. Van Gemert on myös vanhan musiikin ystävä. Hän on jo pitkään perehtynyt Francisco Tárregan kehittämään omaperäiseen soittoestetiikkaan. Tällä hetkellä työn alla on levysarja, jolla hän soittaa kaikki Tárregan vuosina 1902-1907 julkaisemat nuotit. Lisäksi hän on julkaissut levyn Ancient Greece, Musical Inspirations (2017), jolla hän soittaa alkuperäistä antiikin Kreikan musiikkia Olympoksen, Arkhytoksen ja Ptolemaioksen viritysjärjestelmillä. Hänen viimeinen julkaisunsa on Light Darkness - Guitar music by Graham Lynch jolla hän soittaa yhdessä Jose Casallaksen, Mari Mäntylän, Petri Kumelan ja Antti Ignatiuksen kanssa. Tällä hetkellä Rody van Gemert opettaa musiikkiopisto Avoniassa ja Metropolia Ammattikorkeakoulussa.
Artist presentation
Regarded as one of the most prolific musicians in Finland, harpsichordist Assi Karttunen and guitarist Rody van Gemert perform at Tampere Guitar Festival for the first time. Both musicians are interested in various tuning systems and physical phenomena of sound.
The program of the concert builds upon French and Mediterranean history and mythology. Music by French-Vietnamese Tôn-Thất Tiết, English Graham Lynch and Finnish composer Juha T. Koskinen, as well as Tarrega's Chopin arrangements are included.
"This concert is one of the first where I play with a guitar made by Antonio de Torres in 1882 called La Perla, The Pearl. It is the only known Torres guitar where the instrument's name is written inside above the usual Torres label. The guitar is painstakingly restored into playing condition by luthier Uwe Florath. Liisa Kantanen from The National Archives of Finland confirmed that both pieces of paper are from the same period. Finnish broadcast company Yle has just released an hour-long documentary radio program by audio designer Hanna-Helena Kinnunen about La Perla and its history." -Rody van Gemert
Listen to the documentary about La Perla on Yle Areena (Finnish)
Assi Karttunen
Harpsichordist Assi Karttunen has specialized in performing and researching Baroque music. She also performs in interdisciplinary groups with experimental and contemporary repertoire.
Karttunen has recorded 4 CDs of solo works by Couperin, Rameau, Froberger, Lynch and Frescobaldi. As a soloist she has performed in Italy, Belgium, UK, Ireland, Germany, Scotland, Japan, Russia, Germany, Estonia, Norway, Denmark and Sweden and played in several orchestras and ensembles including Finnish Baroque Orchestra (1998–2010) and Elysian Fields-workshop (2006– 2016). She currently works in the Superpluck contemporary music trio.
Karttunen works as an instrument pedagogy and early music lecturer at the Early Music faculty and at the DocMus, Doctoral school of Sibelius Academy. Karttunen has published her research in journals like a peer-reviewed quarterly journal Musiikki, Trio Research Publication, and Ruukku Studies in Artistic Research.
Rody van Gemert
Rody van Gemert is a highly versatile musician from the Netherlands who moved to Helsinki in 2000. He is interested in both new and music as old as Ancient Greece. Van Gemert is also a prolific chamber musician, working with various dancers and musicians.
"His playing is characterized by clarity of articulation, elegance of form, and purity of technique." -Cambio de Michoacán, Mexico
Van Gemert's passion with music started as a school boy at a cathedral school in Haarlem where the choir and violin lessons were a daily part of his life. As a young teen he got interested in the electric guitar and band activity which led to him giving up the violin and singing. His interest shifted when he heard Bach's lute suites and once again his instrument changed, this time to the classical guitar. Van Gemert graduated from the Sweelinck Conservatory in Amsterdam and from The Cologne University of Music with his master's degree. He also studied in Japan in Hiroshima at the Elisabeth University of Music and the DocMus doctorate program at Sibelius Academy with Norio Sato, Jukka Savijoki and Zoran Dukic as his teachers.
Guitar artist van Gemert has premiered more or less 120 compositions, solo pieces and chamber music alike, from composers such as Lotta Wennäkoski, Matthew Whittall, Robin de Raaff, Tôn-Thất Tiết and Graham Lynch. Van Gemert is also passionate about music of the old. He has studied intensely the unique playing aesthetic of Francisco Tárrega. Now van Gemert is working on a series of recordings in which he will play all Tárrega's compositions between 1902 and 1907. Additionally, he has released the album Ancient Greece, Musical Inspirations (2017), which focuses on music of Ancient Greece, in various tunings of that time. His most recent recording is Light Darkness - Guitar music by Graham Lynch in which he performs with Jose Casallas, Mari Mäntylä, Petri Kumela and Antti Ignatius. Rody van Gemert teaches at the Avonia Music Institute and the Metropolia University of Applied Sciences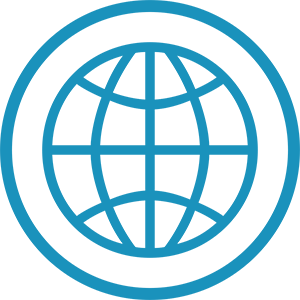 Katso myös | See also
Liput | Tickets
Ennakko | In advance
PRIORITY 28 €
STANDARD 22 €
ECONOMY 18 €
Ovelta | At the door

Lipputyypit | Ticket range

PRIORITY = mesenaattilippu, pääsy saliin ensimmäisenä | Priority boarding
STANDARD = peruslippu | basic ticket
ECONOMY = TGF:n jäsen, opiskelija, eläkeläinen, työtön, alle 16–vuotias, ase- tai siviilipalvelusta suorittava (alennukseen oikeuttava dokumentti esitettävä lipuntarkastuksen yhteydessä) | TGF member, student, pensioners, unemployed, conscript and person in non-military service (eligibility for discount must be proven at the door)

Hinnat sis. palvelumaksut | Prices include service fees
Ennakkomyynti päättyy 2 h ennen konsertin alkua | Available in advance until 2 hours before the concert
Lippuja myydään myös ovelta, mikäli konsertti ei ole loppuunmyyty | Tickets are available also at the door, if the concert is not sold out
Kysely | Survey
Vastaa kyselyyn ja voita festaripassi 2024! | Fill in the survey and win a festival pass 2024!
• Kävijäkysely | Survey 2023: https://q.surveypal.com/Kavijakysely-2023
• Lyhyt kävijäkysely | Short survey 2023: https://q.surveypal.com/Kavijakysely-lyhyt-2023