Ti | Tue 8.6.2021 • EUROSTRINGS ARTIST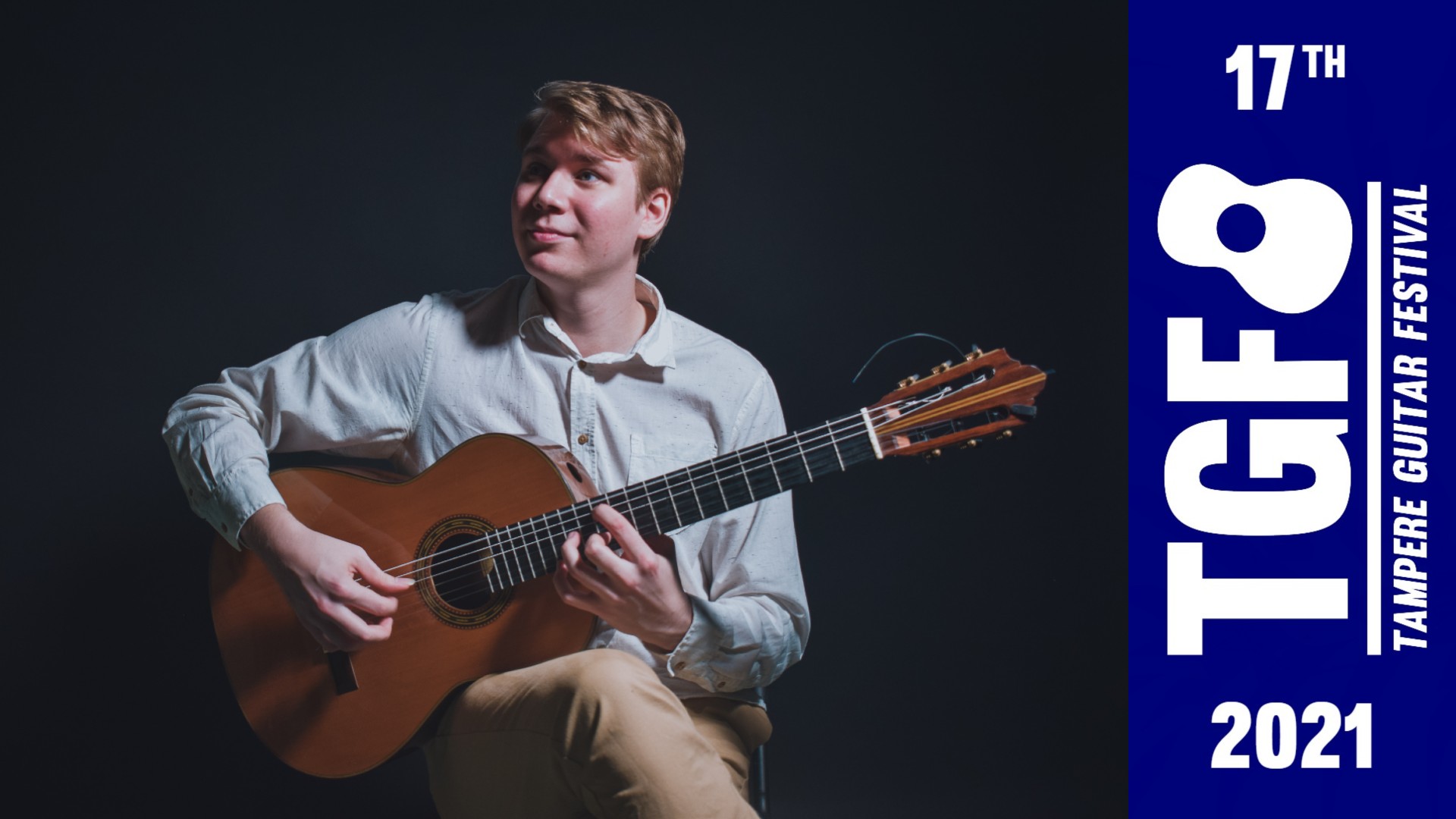 Marcell Nickmann (HUN)
Genre: Classical • 19:00 (CET+1 / UTC+3) • Online concert
Louis Couperin: Suite en ré mineur (Transciption: Marcell Nickmann)
- Allemande
- Courante
- Sarabande
- Canaries
Claude Vivier: Pour guitare
Josquin des Prés/Marco Dall'Aquilla: Plus nulz regretz (Transciption: Marcell Nickmann)
Astor Piazzolla:
SUOMEKSI (IN FINNISH)
Marcell Nickmann syntyi Budapestissa ja aloitti soittamaan klassista kitaraa 14-vuotiaana Sándor Árokin opastuksella. Jo nuorena hän menestyi sekä alueellisissa että kansallisissa kilpailuissa ja sai mahdollisuuden esiintyä muun muassa itävaltalais-unkarilaisen Haydn Chamber Orchestran kanssa. Vuonna 2016 Nickmann aloitti opinnot Andrea Bozókin ja Dávid Pavlovitsin johdolla Szegedin yliopistossa, josta hän valmistui vuonna 2019. Samana vuonna Nickmann saavutti kolmannen sijan Tallinn Guitar Competitionissa ja toisen sijan Harmonia Cordis Guitar Competitionissa Itävallassa. Vuonna 2020 hän voitti Unkarissa järjestettävän Szeged Guitar Competitionin. Voiton myötä Nickmannista tuli EuroStrings-artisti ja hän sai konserttikutsun Tampere Guitar Festivalille.
Nickmann on mukana useissa eri nykymusiikkiprojekteissa. Vuonna 2019 hän ensiesitti kaksi teosta: Claude Vivierin sävellyksen Pour guitare ja duoparinsa Dóra Cserenyecin kanssa mikrotonaalisen teoksen Salita in discesa, jonka Ákos Nagy oli säveltänyt heille. Sittemmin hän on keskittynyt vanhaan musiikkiin ja sovittanut ranskalaisen barokkisäveltäjä Louis Couperinin teoksia.
IN ENGLISH
Marcell Nickmann was born in Budapest, Hungary and started playing the classical guitar at 14 with his first teacher, Sándor Árok. He quickly achieved success in regional and national competitions, winning several first prizes, which offered opportunities such as performing with the Austro-Hungarian Haydn Chamber Orchestra in their matinée series. In 2016, he began studying with Andrea Bozóki at the Music Faculty of University of Szeged. Since 2018, he has been working with Dávid Pavlovits. In 2019, after finishing his Bachelor degree, Marcell Nickmann won third prize in the Tallinn International Guitar Competition and Second Prize in the Harmonia Cordis International Guitar Competition.
Nickmann is involved in contemporary music projects playing in different chamber formations. In February 2019, he premièred Claude Vivier's Pour guitare in Hungary, and with his duo partner, the guitarist Dóra Cserenyec, they premièred Salita in discesa – a microtonal work written for them by the electro-acoustic composer Ákos Nagy. In 2020, as well as continuing to première pieces in Hungary with Dóra Cserenyec, and performing Karlheinz Stockhausen's Tierkreis, Marcell Nickmann began to focus on early music, recently transcribing the works of the French Baroque composer Louis Couperin. In October 2020, Marcell Nickmann won first prize in the Szeged International Guitar Competition.
Liput | Tickets
Ilmaiskonsertti YouTubessa ja Facebookissa. Halutessasi voit ostaa vapaaehtoisen konserttilipun tai useampia (á 2 €) tai tukea tapahtumaa maksamalla yhdistyksen jäsenmaksun tai liittymällä kannatusjäseneksi.
> Siirry verkkokauppaan
Free concert on YouTube and Facebook. Do you want to support the event? Feel free to buy one or more optional concert tickets (á 2 €) or become a member or supporting member of TGF.
> Click to online store
Katso | Watch